Laganas Zante Zakynthos
Laganas Zante - Laganas Zakynthos - Greece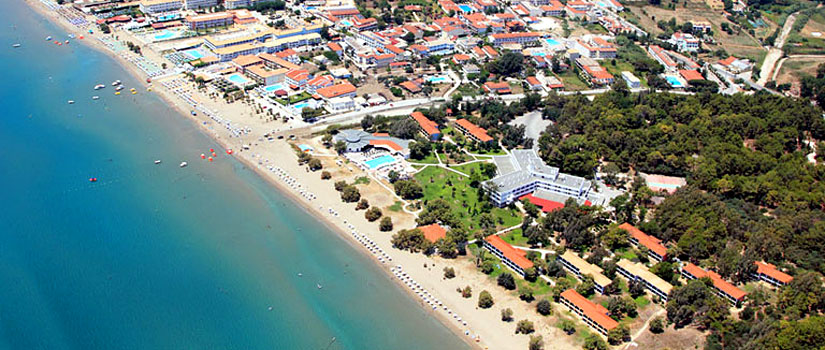 Laganas is situated on the South coast of Zakynthos and is home to the largest and liveliest resort. It is part of a large sweeping bay of mainly flat land, with gentle hills to the West rising eventually to the mountains that line the West coast of the island. The most popular resort of the island owing to the fine sandy beaches and lively nightlife that goes on until dawn. Many properties are surrounded by small fields, orchards and olive groves even quite close to the centre.
Laganas Bay has one of the best resort beaches of the island. It is around 5km long, fairly narrow with gently shelving sand into warm crystal clear sea. Water sports are restricted as turtles use some parts of the bay for nesting. The area is well known for its wide range of nightclubs and bars emitting a party atmosphere all night long until the early hours. This is not the place to visit if you are looking for a quiet and relaxing holiday as it is most suited for the young and lively who want to dance the night away. Can also be suitable for families who don't mind some noise from nightclubs and bars.
There is an extensive range of restaurants and tavernas serving all types of international and local cuisine. From fine cuisine to snacks and burgers it can all be found in Laganas.
When looking for accommodation it is mainly self-catering apartments and a variety of hotels. Plenty of shops to browse including tourist, jewellery, leather goods and supermarkets.Public Transport runs regularly to the nearby Zakynthos Town giving you the option to explore the capital of the island.